Pets at Home VIP "Love to Give" winners!
We are thrilled to have been informed that Lothian Cat Rescue came  3rd in our area in a Pets at Home VIP Club's 'Love to Give' campaign.
This means we will receive £1,000 in cash, and £1,000 work of VIP lifelines!!!
Thank you so much to everyone who gave us their support and of course to Pets at Home.
We intend to put the £1,000 cash towards the vet treatment costs for wee Ali – our cat with the problem ear.  You can read a little bit about Ali by clicking here. The lifelines will be used to keep our shelter stocked with cat litter.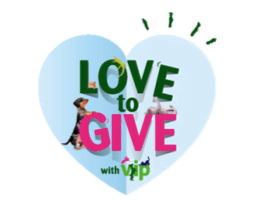 Amazing!!