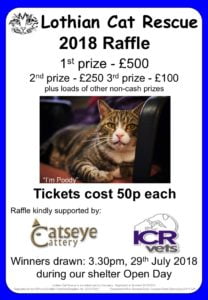 Tickets for our 2018 Raffle are now available.
Tickets are being posted to individuals on our distribution list.  Please contact our shelter if you haven't received tickets by 1st May 2018, and would like some sent out to you.
The raffle will be drawn during our 29th July 2018 shelter Open Day at 3.30pm.
1st prize is £500, with other cash and non-cash prizes also available.
This year, our raffle is kindly supported by the lovely folk at Catseye Cattery and ICR Vets